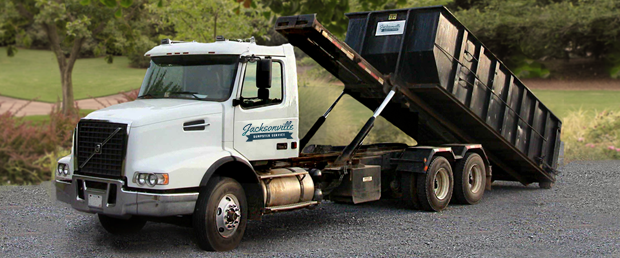 When people plan a remodeling, home improvement, or decluttering project, they usually spend a significant amount of time making plans for how to accomplish the task at hand and determining how to estimate the cost of your home improvement project. But most don't stop to consider the amount of waste and debris their project will generate. Cities have regulations governing the amount and type of solid waste that can be left at the curb for regular city trash pickup. For some types of waste, there may also be rules regarding how it must be prepared for disposal, while some types of waste aren't accepted for curbside pickup at all. When you're planning a remodel, home improvement project or declutter escapade, even if you think it's a relatively small scale project, you will likely end up with too much and/or the wrong kind of waste to leave at the curb. That's where Jacksonville Dumpster Service comes in.
We know this business like no other dumpster rental companies in Jacksonville. When you contact us, your call is answered by a representative who knows everything there is to know about dumpsters and dumpster rentals in Jacksonville. Our representatives also come to the table with expert knowledge about the types of projects our customers undertake. Because of this, our advice and answers to your questions will never be wishy washy or vague. Our representatives will give you accurate, easy to follow advice and information tailored to YOUR specific scenario.
Jacksonville Dumpster Service Knows Where You Live
We pride ourselves on maintaining a service area that serves homeowners, contractors, and businesses in five counties in the greater Jacksonville area, as well two counties in Georgia that we've decided are close enough to the cool kids' table to count. Jacksonville may be our base camp, but every day our trained drivers provide waste disposal solutions to DIYers, contractors, and de-clutterers, from Yulee to Middleburg and many towns beyond. No matter where you are, you can expect the same low prices and friendly, knowledgeable customer service.
Get the Right Dumpsters for the Right Price with Jacksonville Dumpster Service
No matter what your waste removal needs, we have the right dumpster sizes to handle it. Doing some spring cleaning of your attic or garage? Our 10 yard dumpster is ideal for smaller cleanup projects. Contractor with a large-scale project underway? Our 30 yard dumpsters are the most cost-effective waste removal solution for your business. DIYer with new project to tackle? We've got a 20 yard dumpster with your name on it. We'll put your name on our special heavy debris 20 yard dumpster if you have concrete, brick or other particularly waste to dispose of. Not sure what dumpster size is right for your needs? Call us today and describe your project to a customer service representative. With their training and wealth of experience, they can advise you on the right size for the job.
We don't stop at offering dumpster sizes to accommodate any job. We also offer the most affordable dumpster rental quotes in Jacksonville. When you rent from us, you'll also enjoy the ease of our unique flat-rate pricing. Unlike most companies, we factor all of the various fees that come with a Jacksonville dumpster rental into the price you are quoted upfront. This means that, assuming you follow your terms of service, the price you're quoted when you call to order your dumpster is the same price you'll actually pay on your bill. We don't believe in tricking customers into a sale with deceptively low quotes, only to surprise them with additional fees down the line. We want all of our customers to have accurate pricing information upfront. We want you to rent from us because you've decided we're the best choice, not because we tricked you into it.
What More Could You Want from a Dumpster Rental?
Nothing, you say? Well too bad, because Jacksonville Dumpster Service still has more to offer:
The lowest dumpster rental prices in Jacksonville.
Flat-rate pricing for every dumpster you rent. You'll never be surprised with hidden fees.
A 10 day rental period for every dumpster.
Add additional days to your rental period for just $10 a day.
Easy ordering with just a single five minute phone call.
Our call center is always fully staffed. You'll speak to a real person every time you call.
Request pickup of your dumpster at any time during your rental period. No need to keep it around longer than you need.
Request to have the dumpster placed almost anywhere on your property.
Rent more than one dumpster at a time if needed
Call into our office anytime during your rental experience if you have additional questions or requests.