Whether you're a contractor working on a major construction project who needs an economical way to handle waste removal or just a regular Joe with a lot of cleanup to do after your Florida-Georgia game day celebrations got out of hand, we can provide you with the most affordable dumpster rentals in Jacksonville. Even if you don't live in Jacksonville. Or even if you don't live in Florida (although you might want to keep quiet about that in front of that Gators super fan up there).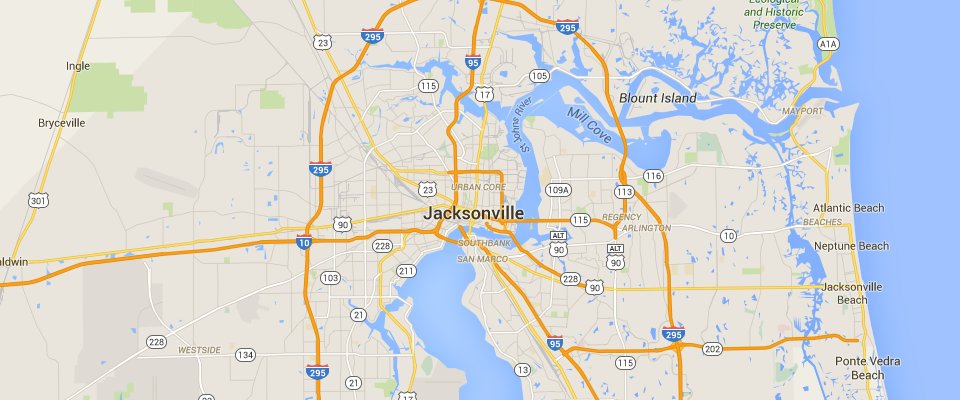 Jacksonville Dumpster Service is proud to offer convenient flat-rate pricing to customers throughout Duval, St. Johns, Baker, Nassau, and Clay counties, as well as to our friends/rivals across the line in Camden and Glynn Counties. Wherever you are,  there's nothing but a five minute phone call standing between you and the lowest dumpster rental pricing in Jacksonville and beyond. And those low-priced dumpster rentals are your gateway to accomplishing that clean up or home improvement project that will truly make your house feel like the home you've always wanted.
What Can I Use a Jacksonville Dumpster Rental For?
For everything. Okay, maybe not everything, but just about as close as you can get. We have dumpster sizes to accommodate any job no matter how big or how small, and no matter type of debris you're working with (with some exceptions).
Just a few of the many scenarios where a Jacksonville dumpster rental comes in handy:
General junk removal
Cleaning out a parent's house before a move or after their death
Cleaning up after foreclosures or evictions
Cleaning up after a disaster
Removing debris from a remodeling/home improvement job
Removing construction debris
Removing roofing debris